Northern California Tournament of Champions Coaching Award
In an effort to recognize outstanding middle school coaches and their contributions to the youth and wrestling of Northern California, the TOC Coaching Award was established in 2011. Coaches are recognized for developing and leading successful middle school wrestling programs, unselfish contributions to the wrestling community and coaching leadership that demonstrates integrity, ethical behavior and sportsmanship that makes them a positive role model for student athletes
2017 Coaches Award(s)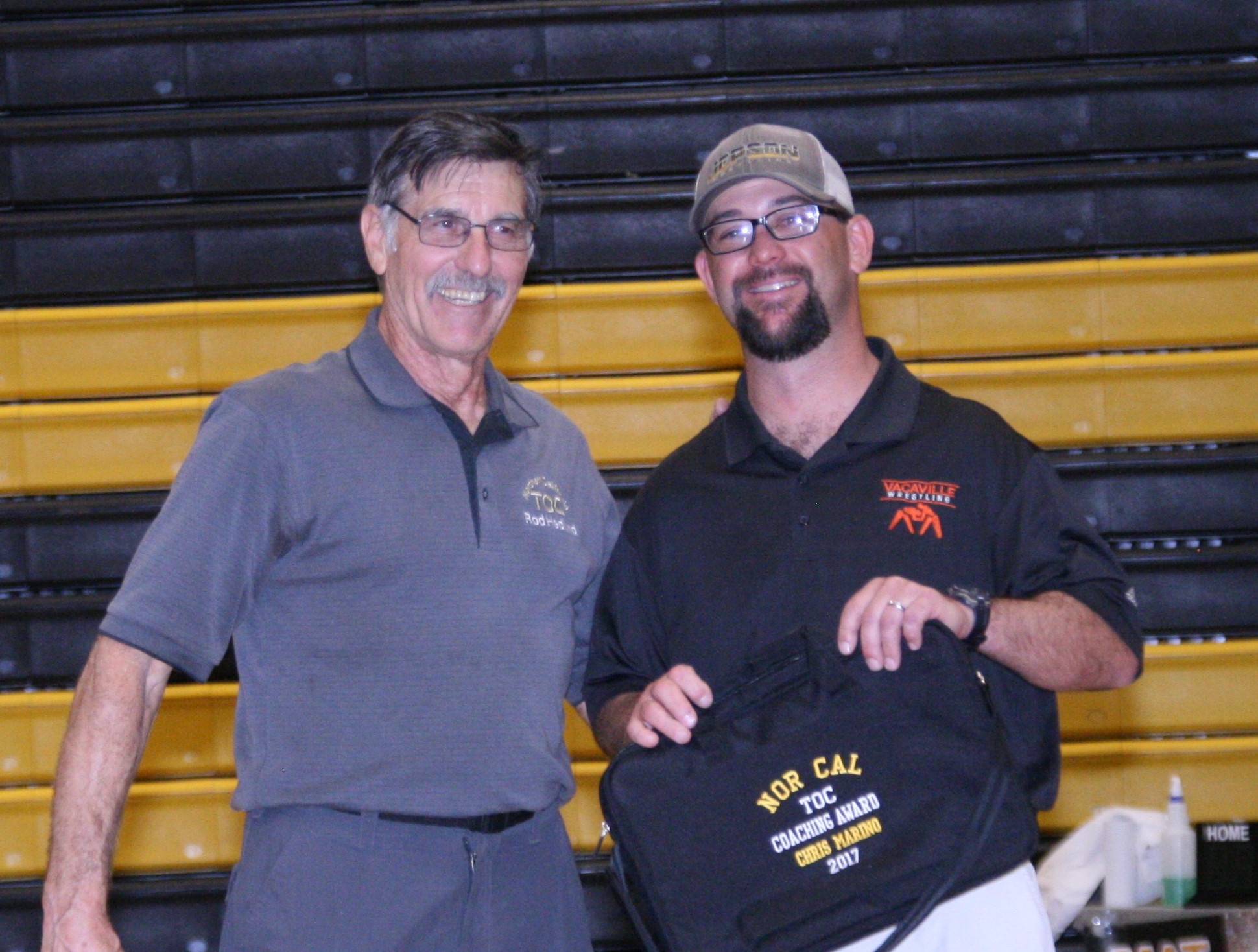 Chris Marino from Jepson Middle School
Chris Marino from Willis Jepson is in his 17th year or heading the Jaguar program. Chris is a middle school P.E. teacher at Willis Jepson and has a wife and two children. Chris is the perfect middle school coach. He teaches the basics that help build the strong foundation needed to compete in high school. He is a mentor to kids that doesnít need to yell or scream to get his point across. If you watch him in the corner you will see a calm presence when most are losing their minds! Under his leadership, Jepson has produced kids that not only have won TOC titles but also have gone on to win the California State Championship. In todayís wrestling world where people seem only to care about the superstar athlete, Coach Marino is a throwback to the days when a middle school coach worked with everyone, including the beginner who is just learning to tie his wrestling shoes. Chris often will run practices with 9o kids in on MP room with no other help. He is a man and coach that everyone can trust to do the right things for student/athlete, someone who coaches the long term success of his kids and high school program. Simply put, Coach Marino is a great man and coach that has a positively changed the lives of thousands of kids over the past 17 years and there are not enough thank youís to make up for the time he puts into the young student athletes at Jepson.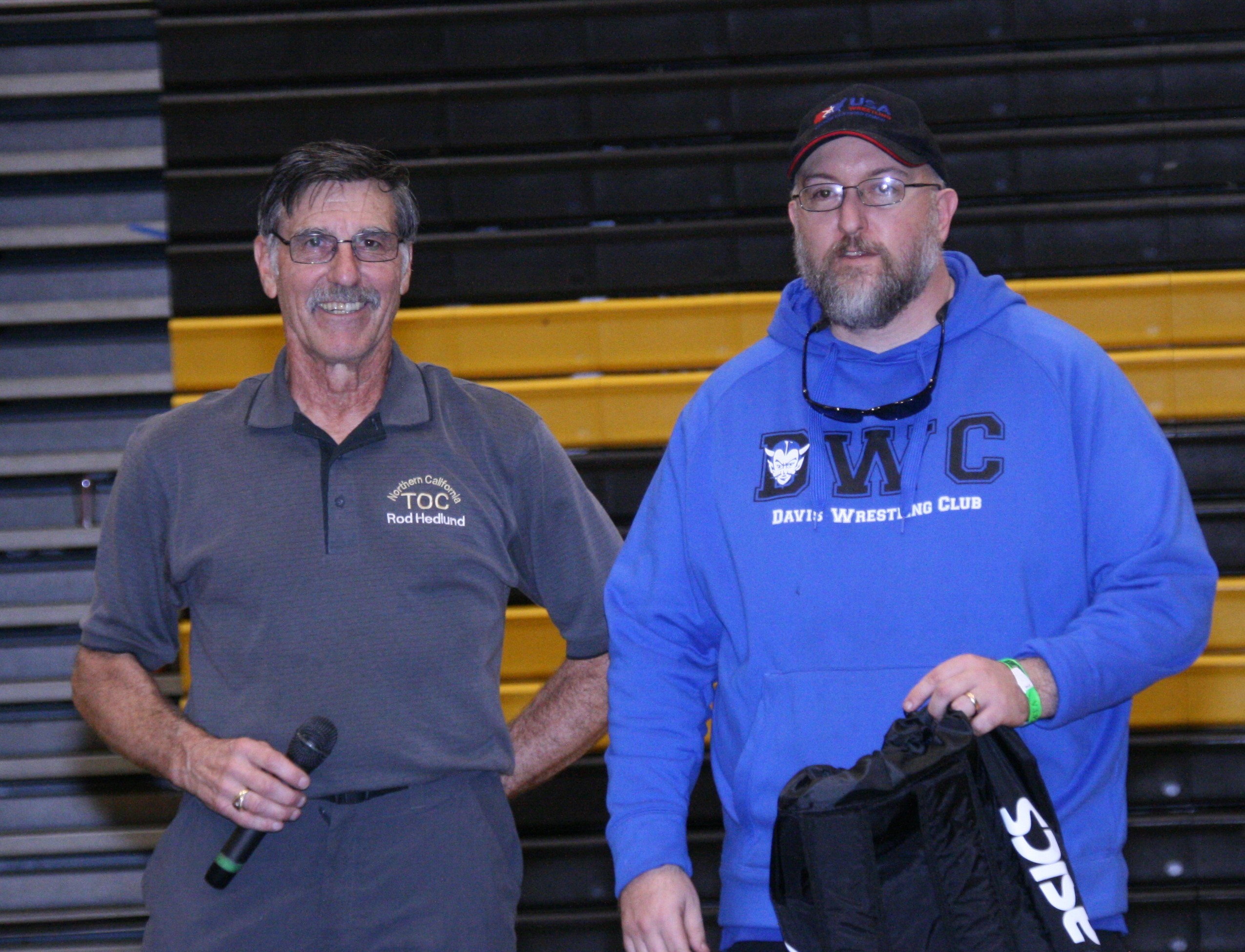 Ben Davis from Davis Wrestling Club
Ben Davis is the assistant wrestling coach at Davis Wrestling Club and the Davis Middle school program. This is the second year of having wrestling back in Davis at the middle school level. Ben has been the driving force behind this. He is the club president and assistant coach and has spent countless hours at all the middle schools in Davis including leading wrestling in their PE classes. In the two years time our numbers have grown and now our high school program is set to double in size next year because of Benís efforts. He gives his time without complaint and shows passion daily in trying to build the program. What really stands out is the passion he has for the sport and the kids. He is constantly promoting the sport in our community. He is an excellent role model for our kids and parents and a true ambassador of the sport. Ben is knowledgeable of the sport and he knows how to inspire kids for developing the love this sport. His top most priority is children safety, development of character, developing ideals of good sportsmanship, and honesty and respect. He is a volunteer coach not paid a penny for his time and also started a non profit organization named the Davis wrestling Club which is run by volunteer parents and coaches. He taxied kids, encouraged kids, fed kids, disciplined kids on top of giving a sold and constant guidance to all the Davis wrestlers. The parents and wrestlers in Davis are blessed to have Ben Davis.
Past Awards
2016 Coaches Award
GREG VARELA from Gilroy Hawks in Gilroy
Coach Greg Varela from Gilroy has not only been the head coach at Gilroy high but also the Gilroy Hawks and the Baby Hawks and between the three has over 65 kids he mentors and coaches. Greg puts in a lot of time and energy into all of his wrestlers. He runs three different practices and does his best to be at all tournaments big and small or even out of state. All this as an off campus coach with a wife and 2 young children. Greg pushes college all the way down to the baby hawks level. He lets them know how important it is by having his high school wrestlers attend study hall before they go to practice.
Greg has a camp where he brings in top clinicians in the country to teach his kids. He also travels with the kids who want to go to camp out of state. He is showing wrestlers that hard work pays off. Greg can not only coach high school champions but he can mold the younger wrestlers into Reno, Tulsa, and even TOC champions !
Greg is loved and highly respected not only in his club and high school but among the entire wrestling communities near and far. Every year the kids who are off at college come back to say hi or to work out with the kids to give back to the program.
It is an honor for the TOC to acknowledge the contributions of Coach Greg Varela to wrestlers and the youth in his community and to recognize him as the recipient of the 2016 TOC Coaching award.
2015 Coaches Award
GEORGE RENEAU
Coach George Reneau has been teaching for over 25 years, 23 have been at the Jr. high. He has coached many different sports from football to soccer, but his love is wrestling.
George has been coaching at Burton middle school 14 years from 2000-2014 where he has produced 13 League titles, 11 Valley Champinships, 4 Masters Championships and 2 State Championships. Coach Reneau has been the driving force in keeping Jr. High wrestling going in Porterville at the Jr. High Level. George has been a key in producing great student athletes for many years now.
Along with these accomplishments, George also served as President of CVJHWA for 10+ years. He has helped grow an association from a few hundred 6-8th graders to 700+ K-8th graders. George has always been a spokesman for wrestling in Central Valley for many years, always an ambassador to younger coaches and wrestlers from Porterville and the association as a whole.
"Coach Reneau has helped guide his wrestlers to become TOC/USA/CIF State placers and Champions and will be revered as one of Central California's best coaches. He is genuine in his beliefs of what wrestling should be like and wants to see growth and success from not only Porterville but all CVYWA wrestlers" stated CVYWA President Adrian Hernandez.
2014 Coaches Award
DAVE LORENZO
Dave Lorenzo has been a wrestling coach in his local community for over 10 years. During that time he has worked tirelessly to coach and mentor his team every day by stressing not only championship wrestling techniques but also the character traits necessary to be a success in future years. His wrestlers and teams have been highly successful last year garnering 5 USA Folkstyle champions and numerous freestyle medalists as well. His recommendation from parents, wrestlers and coaches for the TOC Coaching Award included exposing his team to demanding practice sessions, stressing excellence, providing advanced competition opportunities within and outside of California and fostering an atmosphere of a family friendly environment. Dave draws the greatness out of each wrestler with his energetic personality and his passion for the sport while stressing the importance of unwavering work ethic, respect, courage, tenacity and goal setting. Many of the people recommending Dave for this award came from other areas of the state and are amazed at his ability to raise his wrestlers to the next level with his practice sessions and his caring attitude. Whether it's organizing travel outside of the state, giving kids rides to practice, coaching wrestlers in the practice room or in competition Dave Lorenzo is the epitomy of what the TOC Coaching Award is all about. The TOC is proud to recognize an outstanding leader and mentor of youth for our 2014 Coaching Award, Mr. Dave Lorenzo from USA Gold.
2013 Coaches Award
BRAUMON CREIGHTON
Braumon is Physical Education teacher at Jane L Stanford Middle School and runs the Creighton School of Wrestling in Palo Alto. Under Coach Creighton's leadership the JLS wrestling team has been league champions three years in a row. Braumon Creighton is an outstanding role model for his athletes and students. He is just as effective at training elite college wrestlers as he is at teaching beginning 5 year old wrestlers. He is an inspiration to the kids on and off the mat. He teaches how lessons learned with wrestling are applicable to life. Coach Creighton's enthusiasm is contagious among his middle school students and he has single handedly molded and guided many of these middle schoolers into elite high school and college wrestlers through his "Cregihton Way" of training.
Coach Creighton regularly brings in clinicians from all of the country through his connections in the wrestling world to train local wrestlers whether in his club or not. He has taken groups of local kids with him to the Olympic training center and generously gives these kids unbelievable opportunities. He himself is often asked to give inspirational speeches as well as wrestling clinics.
Braumon Creighton is an exceptional individual who is loved, respected and appreciated by his wrestlers and their parents alike and is most deserving to be recognized as the 2013 TOC Coaching Award winner.
2012 Coaches Award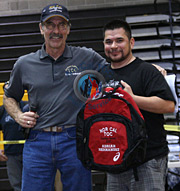 ADRIAN HERNANDEZ
Adrian is from John Muir MS in Corcoran. He was instrumental in starting the Central Valley Youth Wrestling Association serving the young wrestlers throughout the Central Valley from Tehachapi through Fresno. He has served as president of the association for the past 3 years and holds monthly meetings to improve the youth wrestling throughout the area. He hosts a number of tournaments each year including one of the most successful tournaments in California, the California Republic in Lindsay. In addition to his own tournaments, Adrian is always willing to pick up the slack and host league, divisional, or Valley if someone else can't. He has grown the association into a top notch program and he truly has not only his Corcoran wrestlers but all wrestlers in the state of California best interest in mind in all that he does.
Adrian's wrestlers have been very successful at Corcoran. This year 3 kids from his feeder program advanced to the California state tournament at Corcoran High School. California state champion, Isaiah Martinez, was a product of Adrian's youth program. With all this success and accomplishments you will never see Adrian take the credit he deserves because he is such a humble person. He has always welcomed all wrestlers to an open gym. Adrian was a landslide pick from his area for the 2012 TOC Coaching Award. His fellow coaches and wrestlers were very excited just to have the opportunity to nominate him for this award because they respect, admire and appreciate him so much for all he does for their programs and the youth he serves year after year.
As one nominator said, " The TOC could find no better person from our area to honor for this prestigious award than Adrian Hernandez". We couldn't agree more.
2011 Coaches Award
DAVE CLARKE
Dave Clarke has led the Kerr MS program in Elk Grove for many years. His teams have been extremely well coached both in wrestling skills and sportsmanship achieving many championships along the way. A tribute to his popularity and success is demonstrated by the huge numbers of kids who come out every year for Kerr's wrestling team and their competitive force both in the area and at the TOC. In addition, Dave was the coaching leader for many years in the Sacramento Area Wrestling Association and was the instrumental force in developing the current structure, by laws and consistency in the organization. Dave's hugely successful Kerr Invitational was transformed into the Sacramento Area Regional to help foster and develop programs in the Sacramento and Foothill areas. He and his staff have conducted the Elk Grove area weigh in for the TOC for many years as well.
---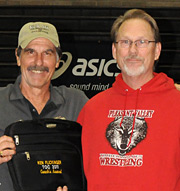 KEN FLICKINGER
Ken Flickinger has been a wrestling, football and track coach at Pleasant Valley MS ( formerly Gold Oak School) in Placerville for 30 years. He is revered among his athletes and students, parents, school administrators and fellow coaches and educators. He is highly respected by all for his integrity, coaching ethics and sportsmanship not to mention his outstanding coaching ability in the won loss column. In El Dorado County he is the dean of junior high middle school wrestling and has been for many years. Coaches look to him for advice and leadership and his teams have been a dominant force in the competition area of the sport for as long as we can remember. "Flick" and his staff have held the local league and county tournaments countless times. Ken has no peer as a positive role model for the youth and community he has served for all these years.
---